A couple of years ago, some of the biggest eCommerce giants in the world started offering very buyer-friendly returns policies. ASOS.com not only offer free return shipping, they also give buyers 28 days to to decide whether they want to keep an item or return it. Pretty lenient huh?
I was at the Internet Retailer's Conference in Sydney a couple of years ago when the CEO of the shoe giant Styletread.com.au blew the minds of the audience when he described their returns policy. Not only do they offer free shipping and free returns (they pay the courier fee), they also allow you to return your order within 365 days of purchase. How's that for buyer friendly?
These return policies cost these companies hundreds of thousands in shipping and order processing each year, so why do they do it? The answer is simple: It helps buyers overcome their biggest objection to buying clothing and shoes online - they might not fit. For fashion retailers, favorable buyer returns policies aren't just a benefit for buyers, they are a necessity for the business.
Think about it: How likely are you to buy a pair or jeans online if you couldn't return them if they didn't fit? I wouldn't. But what if you could try on the jeans with no risk and return them for free if they didn't fit? Then I would feel a lot more confident!
Regardless of whether you sell clothes, shoes or power tools, a returns policy gives your buyers the confidence they need to buy from you. Without a good returns policy, you could be costing yourself a lot of lost sales.
So what should you do? Not all of us can afford to pay for return shipping... and processing returns takes a lot of time. Here are some crucial tips for a returns policy that gets results but won't thrash your profit margins.
Make your returns policy easy to find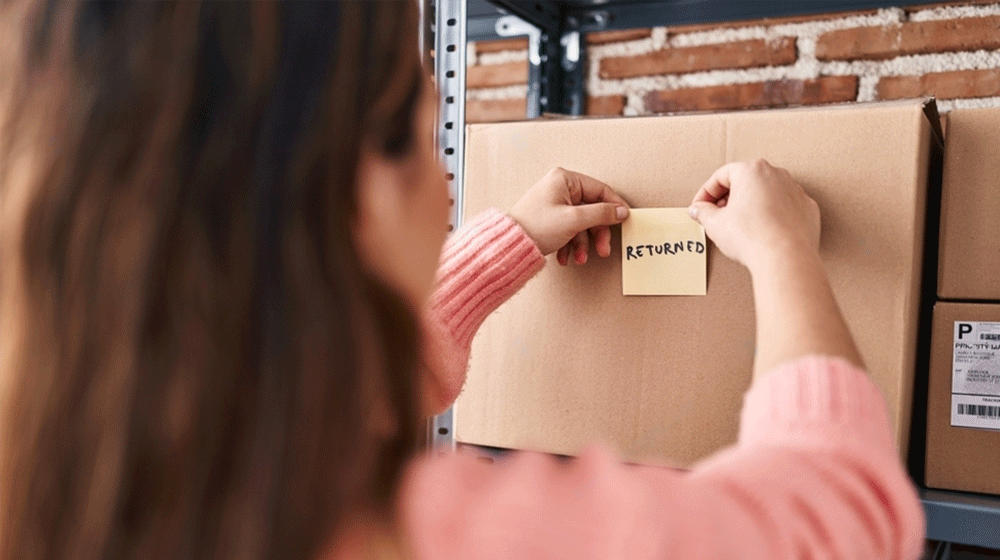 If you sell on your own website such as Shopify, create a new page and display a link to it prominently. If you are going to offer free return shipping, you should definitely have this featured on your homepage.
Sellers on eBay and other marketplace should feature returns information prominently in the listing (don't hide it behind a small font!).
Protect yourself with time frames
Make sure you set a time frame that you will accept returns within. You might also consider having a separate time frame for damaged items. Often this will be a tighter time frame as it lessens the chance of buyers damaging the item and blaming you or the courier (it happens!).
Keep your policy wording friendly
It always makes me shudder when I read a returns policy that's negative and aggressive in tone. I see it on eBay often. Perhaps it's because on eBay you must specify your returns policy, even if you don't accept returns. In the example below, the seller gets a little more emotional than they need to and the wording of the policy comes off as aggressive. This seller could offer the exact same policy, but word it in a friendly way that makes buyers feel comfortable.
💡 Hot Tip: Don't make the same mistake as this guy: Format your policy into short paragraphs and make use of bullet points. Nobody likes to read a big block of text.
When writing your policy, avoid legal jargon, keep it short and list the most important and most beneficial points at the top. For example, start your returns policy with "Yes! We accept returns" then get into the details about what you will and won't accept.
Specify how you award refunds
Will you give store credit? Exchange for another item? Refund cash? Make sure you specify this so that you cover yourself and you set your buyer the right expectations.
Prevent returns from occurring
My final tip treats the source rather than the symptom! Try to prevent returns from occurring. This is easier for some products than others, but thorough and honest product descriptions can significantly reduce the number of returns you will have to process. Always include measurements and detailed item descriptions. Good product photography that showcases product features will also be a big help.
What's your return policy? Does it work for you, or does it cause you more work?