---
Not all eBay transactions go smoothly. Sometimes, even when you follow best practices as a seller, an issue may arise that prompts a buyer to leave negative feedback.
Buyers have different expectations about items, shipping times and costs, and even how sellers communicate with them. A small slip can quickly equate to negative feedback that may be permanent if you don't do something about it.
Receiving negative feedback on eBay may feel like the end of a transaction for many sellers, but it's not. Your total feedback affects your reputation on the platform, and that is why it's important for you to know there's hope yet, even with all those negative marks.
In general, once a dissatisfied buyer leaves negative feedback, the negative score remains. In most cases, the only thing you can do is respond to the feedback to explain your side of the story.
However, in some cases, the buyer could have simply mistaken your listing for another seller's. There are also other situations when you can ask eBay to remove negative feedback because of a feedback violation.
Here we tackle the ins and outs of eBay feedback and the methods you can employ to change or remove the negative ones.
Other ways to improve your eBay feedback
Aside from changing the feedback you've already received, there are things you can do to reduce the negative feedback you will receive in the first place:
Aim for trouble-free transactions
Focus on items that will make easy sales and help you score positive feedback. Avoid selling merchandise that could have shipping issues, at least until your feedback is out of the red.
Provide accurate pictures
A great way to stand out in any eCommerce business whether on eBay or not is to make sure your product listings have clear images. You know that saying images speak a thousand words? Well, it's extremely true here. Your customer can not see the product in person before they purchase so you want to make them feel as confident as they can in purchasing.
Create great listing details
Again, this will help your customer feel more confident in purchasing the item from you. Provide as much information and detail as possible and include instructions in the pictures. For example, how to install/set up the product.
Have a clear return policy
This helps buyers overcome their biggest worry- The item they purchase might not fit or isn't what they were expecting. It doesn't matter what you are selling. A returns policy is a must. This means if you are dropshipping your policy must also match that of your supplier. Don't go beyond your supplier's return window (e.g if your supplier has a 30-day return window you will want to give your customers 20-25).
Check your inventory regularly
It's important that the product your customer purchases is in fact available. Otherwise, this is a recipe for headaches and negative reviews! If you are dropshipping this involves being proactive and either using software or regularly checking.
Provide product tracking
Buyers want to know where their parcel is. It's important that you provide a shipping tracking number as soon as it is available to you. It will also avoid unnecessary messages to you about shipment.
Bonus: 5 Mindset tips when you receive negative feedback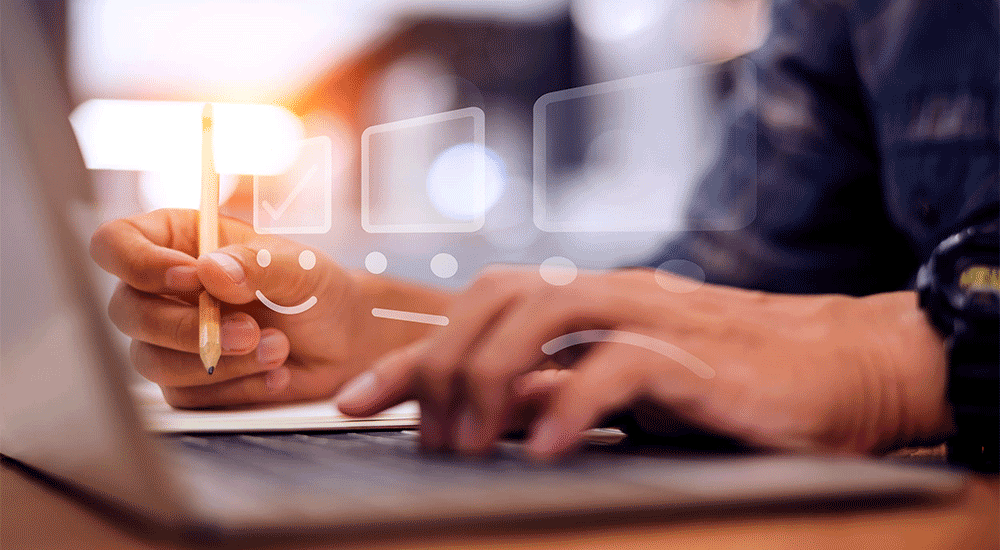 No one likes getting negative feedback or being criticized. But the harsh reality is that it is a part of business and life! However, there are a few things you can do to quickly move on and not let it dampen your day.
Ask yourself: What can I learn from this feedback?- I know I know, it may be hard to see the positives when you're confronted with negativity and criticism. But it's likely you can learn something if you are open to it. Sometimes you simply can't learn anything other than the fact that it doesn't matter what you do people are going to be unhappy and that's that.
Look at your competitors' reviews- While it's never good to compare yourself to others in this situation it can help you feel better and less alone. It's highly likely they will have a negative review or two and perhaps you can even learn from their reviews on how to make your business run better. Competitor analysis is a key strategy to implement in the world of eCommerce.
It's not about you- I know how hard it seems but try not to take it personally. The feedback is not a reflection of you or even of you as a seller. Sometimes there is very little you can do. The more sales you are making the more negativity you will receive!
Take a look at all the positive reviews you have- Naturally, we all focus on negatives a lot more than the positives. The brain has a built-in negativity bias and we tend to remember negative events over positive ones. And we mostly accept negative news as truthful. Just know that you can reframe the situation. Think about what you can learn from it (if anything) and accept it as a part of business. Your business is a moving object and it's all part of it!
Put yourself in your customer's shoes- Can you understand their perspective? Think about a time you have (or wanted to) leave negative feedback. This may help you understand the feedback is not a personal attack on you.
Summary
Getting negative feedback removed from your eBay profile can be a frustrating process, but be patient. It may all work out in the end. And even if it doesn't, think of it as a learning experience. It will help you come up with a strategy to improve your performance, earn positive feedback and make negatives a thing of the past.
What do you think of eBay and the feedback process? Could it be improved? Is it working well for you? Be sure to let us know your thoughts and if you have any questions in the comment section below!