Obesity has become a major problem in the US and other countries around the world, but at the same time, there's a huge push for people to live healthy lives. A healthy diet and regular exercise are the traditional way to lose weight and get healthy, but sometimes people need a bit of extra help. Thankfully, there is another way to help speed up the process: weight loss supplements.
Weight loss supplements take the form of pills, liquids, powder, or even bars. They are often used in tandem with a modified diet and exercise plan, to give these tactics a boost in effectiveness. However, please don't confuse them with prescription weight-less drugs! These weight loss supplements are available over the counter, and you can sell them through an online store! Talk to your suppliers and make sure their products are safe, and make no false claims.
According to National Institutes of Health (NIH), "Americans spend about $2 billion a year on weight-loss dietary supplements in pill form (e.g., tablets, capsules, and softgels)." There's a reason why weight loss supplements are popular in the Market Research Lab! But let's find out if selling these products could yields a profit.
Types of Weight Loss Supplements
Weight loss supplements come in many forms, depending on the key substance that promotes losing weight. Below are some supplements available in the market.
Glucomannan
Glucomannan is actually a sugar that comes from konjac plants. It works by preventing fats in your food from being absorbed by the body. It is used in food for a variety of purposes, including as a thickener or gelling agent.
Conjugated Linoleic Acid (CLA)
CLA is actually found in most people's diets naturally (common sources are beef and dairy products). As a weight loss substance, it helps control body fat, controls appetite, and helps boost muscles.
Garcinia Cambogia Extract
Also known as Malabar tamarind, the extract of this tropical fruit suppresses appetite, and blocks the body's ability from producing fat. It may also help regulate blood sugar and cholesterol levels.
Hoodia Gorcinii
This supplement comes from a spiny succulent plant (like a cactus) and has the ability to suppress appetite that cuts hunger and thirst. Hoodia also controls appetite by helping one feel full.
Green Tea Extract
An herbal derivative from green tea leaves, this helps control your appetite as well as raising calorie and fat metabolism. It has a lot of other uses as well, including treating headaches, osteoporosis and more.
Disclaimer: Weight loss supplements may not be for everyone and can cause serious health risks. A doctor's approval is still recommended.
Why Sell Weight Loss Supplements?
Performance on eBay and Amazon
Below are 3 examples of successful weight loss supplements gathered from the Market Research Lab. This will tell help us target specific markets for each type as we analyze its success rate, competition, and average selling price.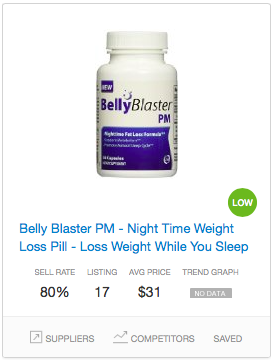 High Sell Rate

These 3 types of weight loss supplements all have healthy success rates of 67% to 89%. The high selling rates are a good indicator that they are highly sought-after products, giving you an idea on how likely you are to move your stock.

Upon further research, I've discovered something they have in common – they all promote appetite control and increase fat metabolism. Two of these are in pill form. Looking at these kinds of details are a great way to get ideas for specific niches among people who are interested in weight loss supplements.

Average Selling Price

An affordable selling price (in these examples, the costs are $25 to $44) gives you an advantage of a larger market when there are a lot of other products. However, you may not have as much control over your profit. You can get around this by purchasing weight loss supplements in bulk to get a wholesale rate.

Remember, suppliers do not usually publish their wholesale prices, so it's always best to contact them directly and let them know what sort of volume you wish to purchase.

Low Competition

All 3 examples from the Lab show a low competition with 6 to 17 listings in total. That's good because it gives you a greater chance of being seen in the listings, and a higher chance on landing a sale.
General Demand
When you list weight loss supplements online, don't underestimate the importance of keywords -- the right keywords help bring in traffic to your site or marketplace listings. Keyword tools such as the AffiloTools Keyword Research will show you the phrases people are using to search for your products as well as related ones in your niche. The data below cover the top keywords for "weight loss supplements."
Unsurprisingly, "weight loss supplements" tops the results with a search volume of 18,100. You may also notice "weight loss supplements for women," which has a higher search volume than the similar keyword, "fat burning supplements for men." Take this as a hint when you narrow down your audience.
You'll also want to notice that "appetite suppressant" appears more than once, which is another hint as to which types of weight loss supplements might be most popular. CLA, garcinia cambogia extract, hoodia, and green tea extract are just some of the examples that work to suppress appetite.
Lastly, take notice of the respectable search volume for "weightloss pills" still high at 1,000. It wouldn't be a stretch to assume that most people prefer their weight loss supplements in pill form.
Extra Bonuses
Selling other dietary supplements can help draw attention to your listings over all and may encourage people to browse and discover everything you have available. Other ways to attract buyers is to sell weight loss supplements in bundles with other dietary supplements or by offering free shipping.
Some products related to weight loss supplements include health & well being products like cardiovascular or cholesterol supplements, bodybuilding supplements, or even digestive health supplements.
Summary:
You can be successful in weight loss supplements online if you study the market trends. The results from the lab and AffiloTools show that appetite suppressants in pill form are popular. It also suggests that women are more likely to purchase these products compared to men but either way, the market is still high for both segments. Some solid strategies that help boost sales is to bundle weight loss supplements with related health and well-being products, or by offering to ship these items for free.
How to Sell Weight Loss Supplements
Here are some options to help you decide on where to sell your weight loss supplements:
1. eBay or Amazon
We've seen the numbers from the lab, showing that weight loss supplements are definitely worth pursuing in these marketplaces. With so many options on eBay and Amazon, you should definitely consider narrowing down your niche to specific types of products, like appetite suppressant pills for women. That limits your competition and potentially increases your listings' visibilities, especially if you target the right keywords. Another way to attract potential buyers is to offer items in bundles, or with free shipping.
2. Your Own Online Store
The good thing with having your own online store is that it eliminates much of the competition. You could potentially increase your profits, you don't have to compete directly with other sellers who can sell weight loss supplements at a lesser price in the same marketplace.
To really build up your business, you need to advertise your website, and use the right keywords to bring in traffic for potential sales. Some website builders like SaleHoo Stores have an SEO module that automates your keywords to help bring your site to the top of the search engine results. Just be sure you don't ignore your own keyword research using the AffiloTools Research Tool.
3. Local Bazaars or Flea Markets
Checkout local bazaars or flea markets in your area. This can be another great avenue for selling all sorts of products because you don't have to worry about shipping. This also gives you the opportunity to deal with your customers personally, which is way better especially when dealing with delicate matters like fitness and weight loss. And just when you make a sale, you can accept payments immediately!
Trusted Weight Loss Supplement Suppliers
If you'd like to try your hand at selling weight loss supplements, check out these trusted suppliers:
This supplier was founded in 2007 with the express purpose of bringing superior quality but less-expensive vitamins and supplements. Their team has a wealth of experience within this industry, enabling them to source products at great prices, whilst ensuring the company's high quality standards are always met without compromise. This supplier offers dropshipping services and accepts major credit cards, PayPal, wire transfers, and bank drafts. There's no required minimum order and international orders are accepted.
Large Product Range: Glucosamine, glucosamine partners, omega oils, fish oils, vitamins and minerals, ginkgo biloba, milk thistle, calcium, heart health, co-enzyme Q10, weight loss
Related Products: Supplements - Acidophilus, Bilberry, Biotin, Calcium, Chondroitin, Chromium, CLA, Cod Liver Oil, Copper, CoQ10, Cranberry, DHA, Echinacea, EPA, Evening Primrose, Fish Oil, Folic Acid, Garlic Extract, Ginkgo Biloba, GLA, Glucosamine, Hoodia Gordonii, Horny Goat Weed, Iodine, Iron, Lactobacillus, Lutein, Magnesium, Manganese, Milk Thistle, Minerals, Molybdenum, Multi-Vitamins, Niacin, Omega, Pantothenic Acid, Phosphorus, Potassium, Probiotics, Riboflavin, Rose Hip, Saw, Palmetto, Selenium, St Johns Wort, Thiamin, Vitamin A, Vitamin B12, Vitamin B6, Vitamin C, Vitamin D, Vitamin E, and many more.
Wholesale and Dropship: Both options are available. Blind dropshipping is not available, so any orders will just have the company information, not yours, on the shipping materials).